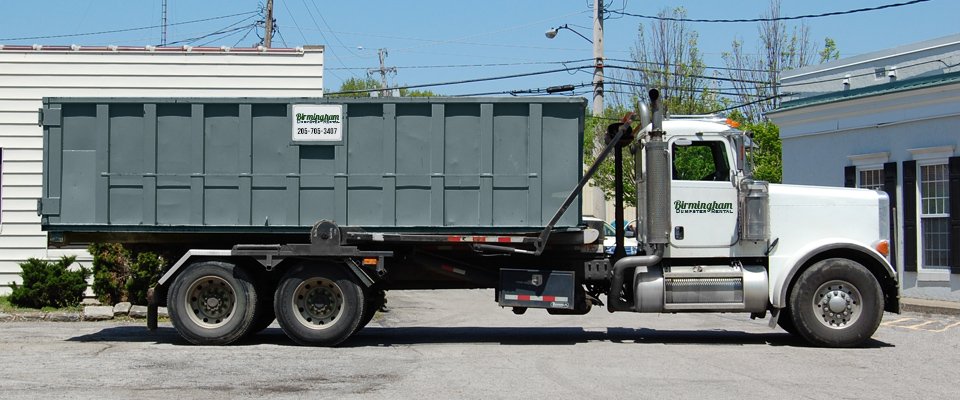 We Work for You!
You want the best dumpster rental experience in the Birmingham area? Well since you are already here reading this page, you won't have to do much digging to find the right rental experience! It's true too; we are the best in the business when it comes to renting dumpsters. But what makes that true? How do you know we aren't just blowing a lot of hot air?
Well, an easy way to verify that is to just start asking around about us. Word of mouth is a powerful ally in the business world, and we here at Birmingham Dumpster Rental have been making waves in the disposal business for a couple of years now. Our services revolve around adding the value for our customers, something that a lot of other haulers forget about. We take the time to work on our prices so that they are at their lowest. We accomplish this through a combination of cutting operational costs, as well as working with infrastructure owners to secure lower disposal rates.
Because of all this behind the scenes work, Birmingham Dumpster Rental is able to offer you a lower price for all the dumpster sizes you are used to working with. Each of our dumpster rentals is available for use in a variety of different settings, including the disposal of copious amounts of construction debris. Construction debris is notorious for being one of the most difficult forms of waste to dispose of. Not only does it weigh a ton (quite literally), but it also comes in big chunks that usually requires some extra equipment to get loaded up in the bin.
That's why we make sure that our construction dumpster rentals are at their lowest possible cost, because you've already got enough to worry about.
How Do You Define a Good Dumpster Rental Experience?
A great rental experience includes:
Attentive and helpful customer services
Low-cost, yet reliable waste containers
A proven track-record for resolving any issues and making sure that each customer's needs are met
No hard selling, just getting the customer the bins they need whenever they need them
An easy and straightforward ordering process!
With Birmingham Dumpster Rental, you'll be able to attain all of this and more without having to do anything more than picking up the phone. As soon as you call us up we'll be able to get your order in with just a few minutes' of your time. And if you have any special instructions for our driver we'll be sure to pass them along. After all, when you rent with us you aren't just getting a trash bin. You are getting a complete disposal service that is known for its astounding customer service.
How Is a Roll-Off Dumpster Different from a Regular Dumpster?
A regular dumpster, such as the ones you'll find outside of stores and office buildings, is meant for disposing of regular trash on a weekly or bi-weekly basis. These dumpsters are often owned by third party companies who are contracted with the property owner to dispose of all the trash produced on site. Since the trash being disposed of is not particularly large or cumbersome, these bins are usually no bigger than 8 cubic yards in volume. This makes it easy for front-loading garbage trucks to lift them and dump the contents into its holding container.
In contrast, a roll-off dumpster is made to be moved from site to site as needed. This is made possible through the use of purpose-built trucks that use either a winch or hydraulic arm to raise and lower the dumpster off of the flatbed area. The dumpsters themselves are generally larger than 10 cubic yards in volume, providing a far greater hauling capacity than your typical permanent dumpster. This increased capacity, as well as their mobility; make roll-off dumpsters a popular choice for large household projects, as well as construction & demolition projects.
Most construction projects are well served with a roll-off dumpster or two, as they allow workers to start loading their debris without having to wait on their own dump trucks to come and go from the site. It also frees up workers from having to man the trucks, leaving you with a bigger work crew to keep up the momentum on the job site. Plus with our services, you can get a new bin delivered at the same time that your old one is being picked up! Allowing you to finish on-time, under budget, and with enough time to pop a bottle of bubbly in celebration.
What Can I Put in a Dumpster?
Our dumpster rentals are built for hauling both regular trash and construction debris. Regular trash consists of common waste items found in homes, offices, retail stores, warehouses, and many other locations. Within the waste management industry, it is referred to as municipal solid waste or MSW for short. The name refers to the composition of the debris, which largely consists of solids sourced from municipalities (cities).
Almost everything you throw out on a daily basis is considered MSW, and can be thrown out using our dumpster rentals. We also take those big and bulky things that you wouldn't normally be throwing out, such as furniture, random boxes of junk, clothing, and a whole lot more. You might find our dumpsters particularly useful for moving or simply cleaning out your home. Each of our dumpster rentals can be parked right in the driveway or somewhere out of the way, such as on the street. Then, as you start going through the house looking for things to get rid of, you can just grab them and toss them in the bin.
Just imagine being able to dispose of all those little odds and ends that have been accumulating in your home. You can finally throw out that old barka lounger that's been sitting, unused, in the basement since the early 90's or even that cardboard cutout of Rick Astley! Seriously, whatever you've got, we'll take it for you.